About Us
New Harvest Ministries International was founded in 1989 in Holland, Michigan by Evangelist Herb Stewart and his wife Jean with one simple mission and purpose: to bring the Gospel of Jesus Christ to the most remote regions of the world and to fulfill the words of the Great Commission! "'Go therefore and make disciples of all the nations, baptizing them in the name of the Father and of the Son and of the Holy Spirit, teaching them to observe all things that I have commanded you; and lo, I am with you always, even to the end of the age.' Amen." Matthew 28:19-20 This has been the foundation and the heart of this ministry!
President Dale Scholten began traveling the world with New Harvest founder Herb Stewart almost 30 years ago. He and his wife Jeanne stepped in as president after Herb's retirement in January of 2015. Dale is also a full-time pastor and lead singer/director of Down Home Gospel Music Ministries.
In addition her responsibilities with New Harvest Ministries and leadership in their church, Jeanne Scholten leads a Bible study at church and is a mentor to several women.
When they are not "Reaching Around the World with the Word," they enjoy spending time with their family, antiquing, shooting, hunting, fishing, birdwatching, "Mancino Mondays" (their favorite pizza), and road trips.
"I don't know where my ministry would be without these precious men coming to my country in Africa continent 16 years ago. Doing unforgettable work across the earth." (Pastor Laban Ndimubenya of Tanzania referring to Herb and Dale)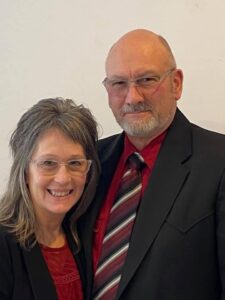 Ministry Partners: NHMI wishes to acknowledge and thank our ministry partners for their faithful prayers and support in "Reaching Around the World with the Word."  Click on their names to visit their websites!